Essential design and advanced functionality
---
JOLI was designed to give a concrete answer to the various needs of outdoor lighting design. A versatile lighting system that offers the possibility to illuminate streets and urban routes through a direct diffusion of light and accent lighting through projectors to highlight architectural details.
---
Available in three versions:
JOLI 1: direct lighting via a circular module, ideal for streets and urban routes
JOLI 2: accent lighting through three adjustable projectors
JOLI 3: a system that combines the first two solutions into a single, versatile luminaire, which can be used in different lighting scenarios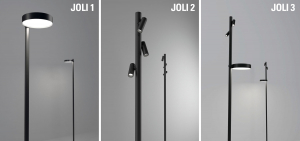 This product perfectly embodies B LIGHT's philosophy: pure lines and essential design that evolves into advanced functionality and high quality lighting.